Electronic Components and Processed Products
Products
ELECTRONIC COMPONENTS AND PROCESSED PRODUCTS
Electronic Components and Processed Products
The Strength of Non-Ferrous Materials Generating High Technology Products
Aluminum and copper possess superior properties essential for electronics and leading-edge technologies owing to their corrosion resistance, high workability, high conductivity, non-magnetization and high thermal conductivity. These material properties are sought for components in automobiles, air conditioners, computers and a broad range of other high technology products that make our lives more comfortable. Representative products of Marubeni Metals in this category include print circuit boards; grid rollers; oil coolers, radiators and heat sinks for automobiles and industrial machinery; and other products. These products have been highly appraised by our users. Marubeni Metals also handles ultra precision polishing pads (polishing cloth) and slurry (polishing agent) essential for HDD aluminum and glass disks and has secured a large share in these areas. The company also has LED chips, a commercial material for the leading-edge technology field and is tackling market expansion as the master sales agent in Japan of an outstanding U.S. supplier of LED chips. Marubeni Metals will continue to provide a broad range of commercial materials for areas from non-ferrous processed components to related products centering on the electronic components field.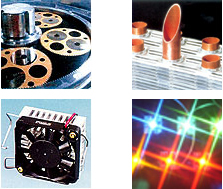 Products Handled
Electronics components and auxuailiy materials
Mugnesium products, printed circuit boards, grid rollers, copper-clad laminate aheets magnetic-dicast products, materials for hard disk drives(polishingpad, polishing slurry),etc.

Heat exchangers
intercoolers, radiators, oil coolers, heat pipes, fan motors,etc.

Air conditioner-related materials, etc.
Copper tubes for air conditioners. copper tubes processed products for air conditioners and refrigerators,copper strips for semicondoctors, tungsten-molybdenum wire for electoric bulbs, etc.

LED chips / CNG containers / Casting forged steel materials