Recycling and Raw Materials
Products
RECYCLING AND RAW MATERIALS
Recycling and Raw Materials
The Role of the Metal Recycling Systems: A Key to the Earth's Future
The rapid development of industry due to the scientific progress of the 20th century also brought about problems on a global scale. The world has been left with many environmental issues that require resolution including the exhausting of resources, global warming and environmental pollution. As a company that places non-ferrous metals, a globally limited resource, at the center of its business, Marubeni Metals is proactively tackling these issues. Both aluminum and copper are resources that are ideal for recycling. The manufacturing energy required to produce recycled aluminum ingots is only three percent of that needed to produce virgin ingots and enjoys almost identical quality. In addition, compared to other metal resources, copper is a rare metal whose scrap metal enjoys a high value and is also appropriate for recycling. The recycling business of Marubeni Metals procures aluminum scraps, recycled aluminum ingots, copper scraps from Japan and overseas and melts, processes and reuses these as products. Marubeni Metals is seeking to further solidify this recycling system and will further contribute to the effective use of resources hereafter.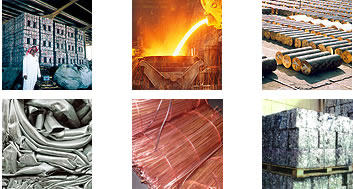 Products Handled
Scraps/secondary alloys
Aluminum scraps, secondary aluminum ingots, copper scraps, electric wire scraps, etc.