Products
MATERIALS
Copper and Aluminum: Materials Representative of 21st Century Non-Ferrous Metals
Aluminum and copper first drew attention for their functional roles as materials. The uses of aluminum are broad and extend from aluminum foil to aluminum cans, window sash, wiring, materials for various communications equipment and uses in other goods, contributing to our lives and environment and becoming tightly knit with our lives. The value of aluminum continues to rise as a metal material that is now an essential part of our lives.
Aluminum is light and strong and possesses a diverse range of other unique characteristics to play a vital role as a material for supporting the creation of infrastructures.
Likewise, today, copper has added more value through sophisticated refining and processing technologies and is highly appraised as a metal material that supports the electronics era.
Marubeni Metals has established a solid distribution organization and system for aluminum and copper, which are essential items of our lives and drivers of the creation of societal foundations. The company specializes in non-ferrous metals centering on the aluminum and copper business and fulfills its societal duties through the reliable and speedy supplying of products through an exceptional distribution system. Furthermore, the company doesn't limit itself to provide only trading company functions, but also develops a broad range of added value services. Marubeni Metals relentlessly devotes itself to meeting the various needs of our users and proactively conducts marketing activities.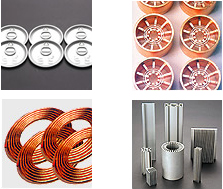 Products Handled
Copper tubes, brass bars, aluminum sheets, aluminum extrusion frames, aluminum checkered sheets, metal materials for LCD's electric wires, etc.